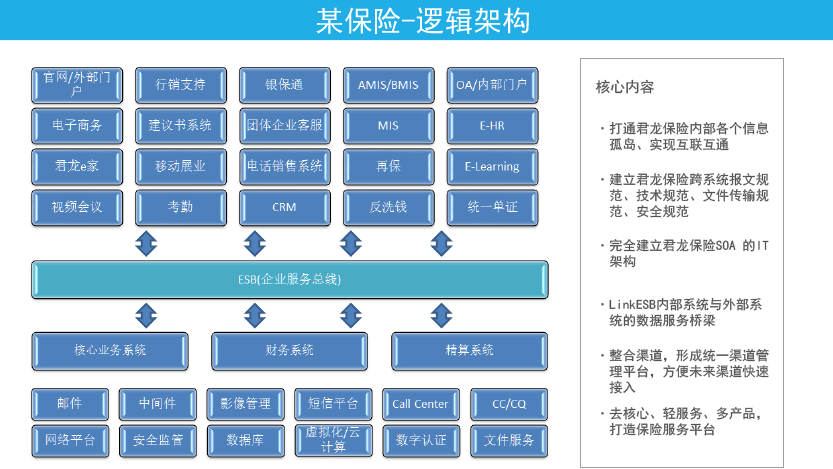 With the rapid development of Internet technology, especially mobile Internet technology, new information challenges have been put forward to the traditional insurance industry. On the one hand, there is the structure of the defect of the original system, on the other hand to introduce the new IT system to meet the needs of new business development. And how to better integrated management and interaction of the old and new systems, in order to faster meet and respond to business development needs, has become a top priority of many insurance companies. Today Xiaobian want to share with you life KENAL case, introducing LinkEsb to see how it solves the problems of informatization development, better support Internet plus.
King Dragon Life King Dragon Life company officially opened on December 17, 2008 in Xiamen, is the first national insurance company headquartered in Fujian Province, its parent company is the Limited by Share Ltd of life insurance in Taiwan has 60 years of experience in the management of life insurance. On October 2015, the shareholders of Taiwan KENAL life insurance Limited by Share Ltd formally incorporated into the Chinese Chinatrust Financial Holding Co (CITIC Holdings), Chinatrust Financial Holding Company is Taiwan 's most profitable, including banking, insurance, securities, investment, preservation, lottery and other ten subsidiaries, the total assets of more than NT $4 trillion. Taiwan is also the fastest and most successful international financial group, set up more than 120 branches in 12 countries around the world, the group development toward "Taiwan first, Asia's leading forward, the first Chinese world leading brand" objectives, banks, securities, consumer finance and other layout collocation Chinatrust group has comprehensive development in the future development of the Empire, Chinese, life more quickly and more broad prospects.
With the rapid development of the insurance business, and deal with the new challenges facing the mobile Internet trend, the company management upgrades, consequently, the diversification of customer needs and complex application scenarios, resulting in more and more complex, the information system of business response speed requirements are also getting higher and higher.
established LinkEsb service bus architecture, can promote the process of informatization KENAL life system.
a. Construction of internal system and life between KENAL KENAL life with the external channel system for information exchange service system effectively, realize the standardization of interfaces and IT services, the establishment of SOA system architecture.
b. Division of service architecture and service granularity, will promote the reuse ability of grand long Renshou IT application, so that the IT can deal with the relative business development and rapid changes.
c. Management of all system service providers and service providers, monitoring and analyzing the whole life cycle of services. Perform the whole life cycle registration management of non performing, quasi real time transactions (services), and realize the whole process visualization of insurance services.